UCS Business Expo – Funding, Research and Innovation
Find out more about the support available, both academic and financial, to develop you concept into a product or service
With Covid restrictions a thing of the past, we want to welcome you back to University Centre Shrewsbury, update you on our developments and remind you of the support that is available for businesses in the area.
Prof Paul Johnson, Head of Centre at University Centre Shrewsbury, will welcome you to the event and give and overview of developments at the University. Kirstie Simpson, Deputy Dean, will talk about her work on the Shropshire economic growth strategy and the business offer available from the University.
As well as showcasing the business support on offer from University of Chester, this Expo will also include the support that is available from other organisations in the region. So far, confirmed exhibitors are:
Experts in specialist areas of tax relief, including Capital Allowances, Research & Development (R&D), Remediation of Contaminated Land and the Patent Box. Their average client benefit is £55k for Capital Allowances and £75k for R&D and the Patent Box!
Maxi House Innovation Studio
The venture combines an approved 'Start-up and Innovator' visa endorsement body for the UK Home Office, with a dedicated business support studio in one venue.
Work with employers to deliver training which inspires everyone to achieve their potential and provides employers with a skilled workforce for today, tomorrow and into the future.
A one-stop shop to offer impartial advice and support to encourage employers to offer apprenticeships, traineeships and kickstart opportunities.
Grants are available for low carbon product or service development (up to £30,000) and renewable energy projects (up to £50,000). These can cover up to 40% of eligible project costs.
A FREE environmental support scheme for local micro businesses and SMEs looking to be a little greener. Will help you reduce overheads through increased efficiency, enhance your business's reputation, and connect with like-minded businesses to collectively make a difference and help to achieve this carbon reduction goal.
A strategic partner to University of Chester, UCR places a combined emphasis on academic and practical skills, alongside their close relationships with industry, which provides far more than a traditional education.
The Pump House Knowledge Hub is a project focused on sharing and developing the knowledge and skills needed to achieve sustainable and net-zero buildings in Shropshire. It is a collaborative space with a conference room, three meeting rooms and an exhibition area that can be used by local business people.
This University of Wolverhampton project is coming to an end but they will be there to talk about what else the University can offer people in the local area.
Support SMEs to improve their products and processes and provide access to the University of Birmingham's materials science expertise and our state-of-art facilities. Help companies accelerate their product and process development, thereby delivering improved profits.
Can assist your company to map, assess, and improve the capabilities of your supply chain. This will give you: a better understanding of your supply chain, an assessment of the maturity of your supply chains, and a plan of actions to improve and strengthen your supply chain.
Refreshments available throughout.
This event is a collaboration between University of Chester, CREST, Digital Solutions, and Building Skills and Growth Capacity (BSGC).
CREST and Digital Solutions are part funded by ERDF.
BSGC is part funded by ESF.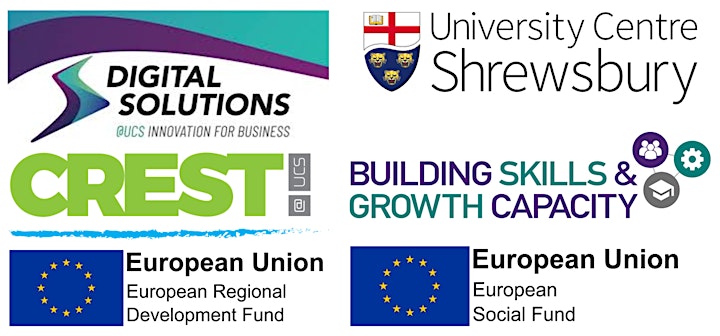 REGISTER
Contact us about UCS Business Expo – Funding, Research and Innovation