The Employment Journey – Your guide to Apprentice Employment Seminar
Save this page for reference and share it with your colleagues
The Marches Centre of Manufacturing and Technology, Shrewsbury and FBC Manby Bowdler LLP have joined forces to bring you an informative event focused on Apprenticeship Employment.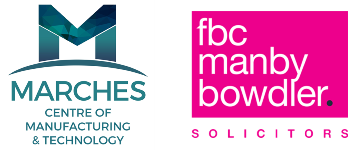 Making the decision to take on an apprentice is not one to be taken lightly. You know that you will need to commit time and resources to each individual. Get the decision right, however, your apprentice will prove an invaluable investment for the future of your business. Together with our legal partners, FBC Manby Bowdler, we will be looking at the full route of the apprenticeship journey from sourcing funding and the Apprenticeship Levy, legal compliance with individual apprenticeship agreements, health and safety considerations, managing behaviours of those new to the working environment and looking how to retain these valuable assets once the apprenticeship term has ended.
Julia Fitzsimmons from FBC Manby Bowdler, together with Marches Centre of Manufacturing and Technology, will provide a legal overview, practical guidance and procedures together with best practice advice and the opportunity to share good practice within an informal workshop environment to help you get the most from your newest members of the team.
The event will start at 12:00am with registration and presentations until 12.50 followed by a light lunch, then onto a tour of the Engineering Training Centre and also Salop Design and Engineering.
REGISTER
Contact us about The Employment Journey – Your guide to Apprentice Employment Seminar
Herefordshire
Shropshire
Telford & Wrekin
or email us direct