Herefordshire Means Business @ Breakfast
Save this page for reference and share it with your colleagues
Join us for the next FREE business networking breakfast in association with our partners Hereford FC.
This month our speaker is Ange Tyler from The ELY Memorial Fund. Her talk is entitled "My Journey & a chink of light" and she will be talking about her personal experiences and her Strength in dark times and choices to make it all mean something leading to recognition along the way.
Over breakfast…
• Meet new business contacts.
• Network and connect with local companies.
• Share business success stories.
• Get support from trusted business owners.
• Discuss business topics that are most affecting you.
• Take advantage of the promotional table and bring your brochures and flyers to promote your business.

It's a friendly, informal gathering.

Our meetings tend to be busy, lively and productive and there is certainly no pressure and no 60 second pitch!


Please ensure you book your place

For more information, please contact
Rich Beale T: 01432 620024
E: [email protected]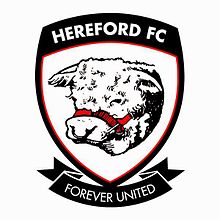 REGISTER
Contact us about Herefordshire Means Business @ Breakfast
Herefordshire
Shropshire
Telford & Wrekin
or email us direct