Connecting Black Businesses with Corporate Opportunities
Save this page for reference and share it with your colleagues
Connecting Black Businesses with Corporate Opportunities. Celebrating Black History Month.
MSDUK is delighted to host this event in partnerships with Black Business Network and Black Excellence Network UK.
Corporate Panel
The first part of the session will focus on learning and finding success within the corporate procurement process and best practices when applying for corporate opportunities. You will be able to ask your questions and get insight into what you need to focus next in your business.
Corporate Opportunities and Pitch Your Business
In the second part of the webinar, you will be able to choose your preferred sector by joining that break-out room where the corporate will share what they look for in terms of products and services and you will be able to ask your questions. At the end of this session we will allocate 15-minutes where you can Pitch Your Business by delivering a 90-second pitch. We will select businesses from the audience and we will do as many pitches as time allows.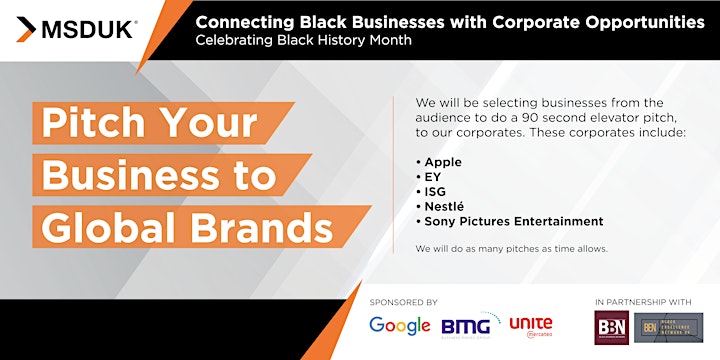 About Our Partners
Black Business Network – Black Business Network is the home of black business owners and startup entrepreneurs, designed to strengthen business connections, financing and knowledge in our community.
Launched in September 2018, Black Business Network was created to address the disparity in the availability of tools, knowledge and strategic development required to progress black SME's in the UK.
We are committed to the growth and maintenance of our business community; providing resources and safe space events which allow professionals and entrepreneurs alike the opportunity to establish meaningful business connections.
Black Excellence Network – A platform for Career Professionals and Business Owners. Providing support, events & inspiring content of black talent.
The platform recognises, highlights and celebrates black talent to increase the visibility of black talent in different industries by showcasing talent on our platform and having conversations with talent to find out more about the great work they're doing.
REGISTER
Contact us about Connecting Black Businesses with Corporate Opportunities
Herefordshire
Shropshire
Telford & Wrekin
or email us direct