Digital Marketing Planning
13th November, 2019 9:00am to 1:00pm
University Centre Shrewsbury, Shrewsbury
Marches Growth Hub Shropshire | Digital Skills Academy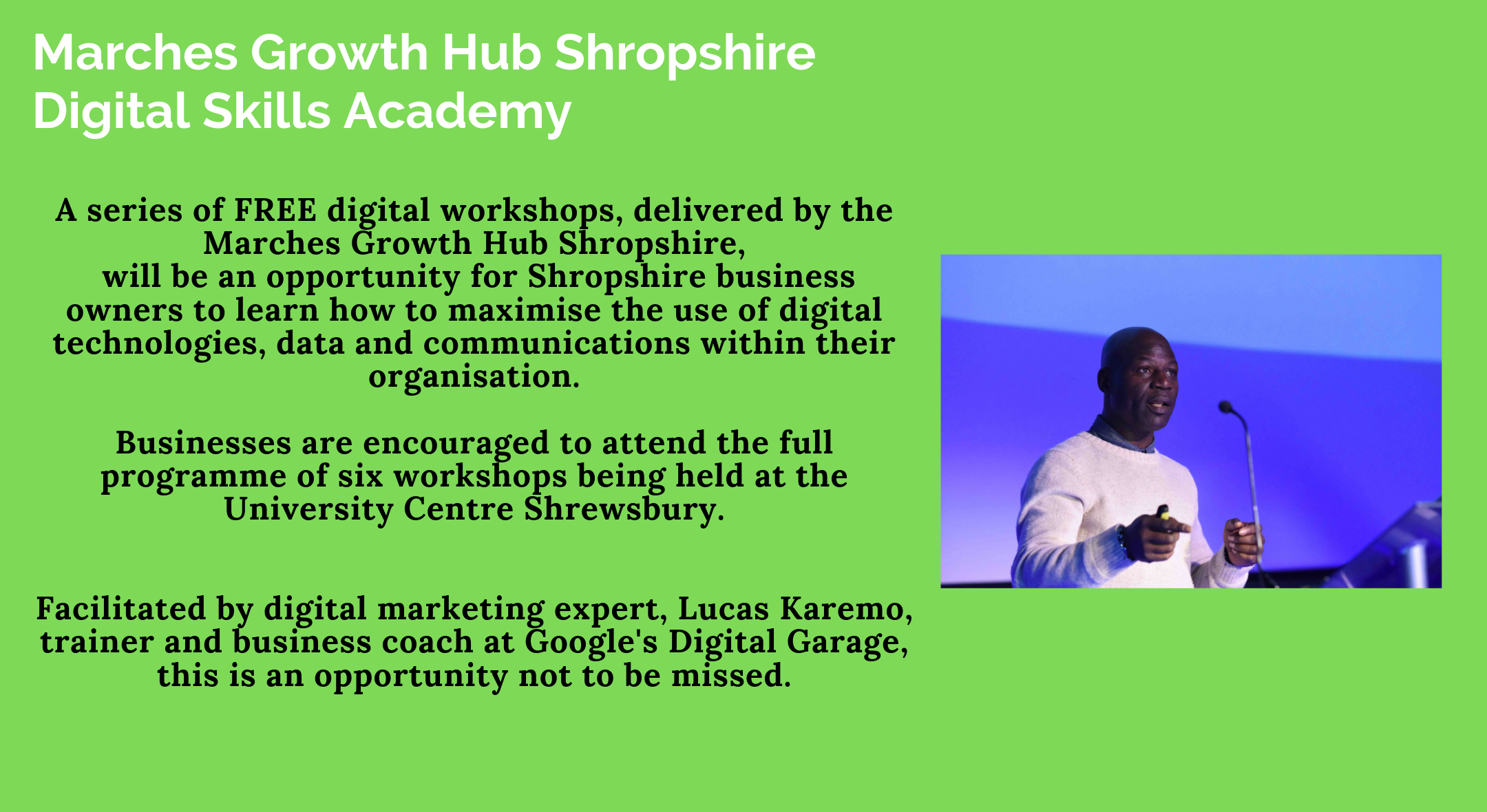 Learning and the professional self-development of digital skills can be a minefield full of acronyms, jargon and constant change in techniques.
This series of interactive, digital skills workshops aims to cover the absolute 'essential' fundamentals of digital marketing from, research, site structure, search, social, advertising, content marketing to analytics, security, compliance and more…
DIGITAL MARKETING PLANNING
This module starts the series of Digital Skills Academy and introduces the core principles, the channels and purpose of digital marketing. It will enable you to develop clear and actionable business objectives for a digital marketing plan, developing strategy to gain an audience and utilise industry insight.
Delegates will gain and leave with current understandings on how to…
Implement techniques to benefit from being online...
Refine and analyse target consumer, markets and competitors...
Develop relevant and engaging marketing content...
Align digital channels to achieve business objectives...
Protect your online business and comply with regulations…
Topics for interactive conversations covered (not limited to):
The 'Internet of Things' and online opportunity.

Search Engine Optimisation.

Search Engine Marketing.

Social Media Marketing.

Display Marketing.
Content Marketing.

Email Marketing.

User Experience.

Online Data Analytics.

Cyber Security.

GDPR & ASA.
Affirm how you much you already know, learn and grasp some stuff you never properly understood before and no doubt, identify some areas you'll want to go into more deeply in the future. The aim is to stimulate, inform, inspire and empower; delegates will finish the sessions enthused with essential current digital planning techniques and their heads buzzing with new terminology, ideas and strategies...
Who's it for?
Entrepreneurs, SME's, Business2Business, Business2Customer, and Digital Marketers.
Agenda: 
9.00am to 9.15am - Attendee Registration & Networking.
9.15am to 11.00am - WORKSHOP PART 1.
11.00am to 11.15am - Refreshments & Networking.
11.15am to 1.00pm - WORKSHOP PART 2.
FREE TO ATTENDEES -  Digital Tools & Resources 
WhatsApp Alumni - Networking & Collaboration.
Free Digital Marketing Templates.
Free Social Media Marketing Templates.
Free SEO & Website Evaluation.
Free 1-2-1 Digital Skills Review.
The Trainer
An accomplished traditional and digital media communications professional, with great expertise in creative led marketing solutions. Lucas Karemo @1ucask is an accredited marketer in the field of interactive growth and marketing communications. Excels where his knowledge and skills to engage with people for continuous self-empowerment and business development.  Google Team Leader, Digital Trainer and Partnership Lead at Google Garage.
The boring bit
Terms and Conditions of Booking
This event is fully funded and free to eligible businesses to attend.
We appreciate that sometimes there are good reasons why businesses are unable to attend workshops, however if you are no longer able to turn up, please cancel your ticket through Eventbrite
We require 48 hours cancellation notice prior to the event (in order for us to offer your space to another business)
Please note that if you do not attend without letting us know, we reserve the right to decline your bookings for future sessions. 
Data Protection
Details that you provide us with on booking will only be used in connection with this event offered by Marches Growth Hub (the data controller) and its partners, which include the Department for Business Innovation and Skills (BIS) and event partners. If the business has any question in relation to how the information the business provides, and in particular any personal data, will be processed and disclosed, please email the Marches Growth Hub – Shropshire on marchesgrowthhub@shropshire.gov.uk
Photographs
Photographs and/or video may be taken at the event. By taking part in the event you grant the event organisers full rights to use the images resulting from the photography/video filming, and any reproductions or adaptations of the images for publicity or other purposes. This might include (but is not limited to), the right to use them in printed and online publicity, social media, press releases and funding applications. If you do not wish to be photographed please inform an event organiser.